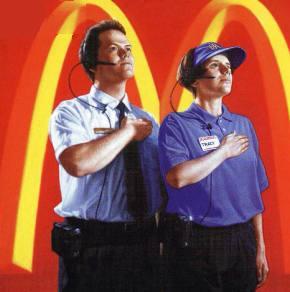 McDonald's is to run its fleet of lorries on chip fat.
The fast food giant has pledged to recycle the cooking oil used in its restaurants to make environmentally-friendly biodiesel.
And it aims to use the fuel in all its 155 vehicles in the UK by next year.
McDonald's said the move will save more than 1,650 tonnes of carbon every year – the equivalent of taking 2,424 family cars off the roads a year.
The cooking oil from its restaurants will be combined with rapeseed oil.
A trial by the group – underway for almost a year – has converted 150,000 litres to biodiesel and McDonald's delivery vehicles have already been running on 95 per cent diesel and 5 per cent biodiesel.
The company expects to be able to convert six million litres of oil a year to cover the 6.1 million litres of diesel used by its fleet.
It will collect oil from 900 of its 1,214 outlets each week, after which the cooking fat will be taken to a separation tank in East Anglia to remove food particles before being converted to biodiesel at a plant in Milton Keynes.
Half of the 45-vehicle fleet which operates from McDonald's Basingstoke distribution centre has been converted to run on biodiesel. The national roll-out is due to follow quickly, although Northern Ireland is not included in the plans yet.
McDonald's already runs a similar initiative in Austria, where its lorries have been using biodiesel for a few years.
McDonald's senior vice president Matthew Howe said: "Our approach to the environment is reduce, reuse, recycle, and we try and do this in everything that we do."
The group has not revealed the cost of converting its fleet, but said that while it would be out of pocket initially, its plans to use biodiesel should eventually save money, with the fuel costing less to convert than the price per litre of diesel.
McDonald's has been upping its green credentials in response to critics, such as Greenpeace.
Earlier this year it started selling coffee certified by the Rainforest Alliance in its UK restaurants and last year agreed to stop using soya from newly-deforested land in the Amazon rainforest in Brazil.
Source DailyMail