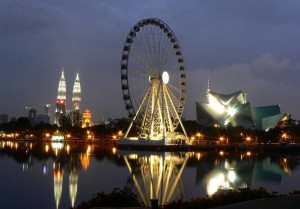 Malaysia's once-vaunted biofuel industry has seen production grind to a halt since a March announcement that the government's mandatory switch to the green energy will be delayed to June 2011.
Malaysia had ambitions to become a global leader in biodiesel and unveiled grand plans for the industry as the price of crude oil spiralled, peaking in mid-2008.
However, the future of the alternative fuels is now in question given cheaper crude prices and the higher cost of Malaysia's palm oil.
Malaysian Palm Oil Board (MPOB) figures show that the production of biodiesel, a mixture of diesel with five percent processed palm oil, dropped 99 percent from 12,640 tonnes in March to just 137 tonnes in July.
Malaysian Biodiesel Association vice-president U.R. Unnithan said the country had the capacity to produce 2.6 million tonnes of biofuel annually but that demand had completely dried up.
[ad]
"There is no demand domestically for biofuel as the government is only implementing its plan next year and because they are providing no subsidy, we can't even cover costs," he told AFP.
"Unless the domestic market picks up… it is all negative margins at the moment."
Unnithan said Malaysian biofuel cannot compete in international markets as many countries have protectionist measures and subsidies in place.
"If we are provided with the right subsidies and incentives, the Malaysian biodiesel industry can thrive. Feedstock prices are high at the moment which means that anything we produce would be more expensive without subsidy."
Crude palm oil (CPO) prices have risen from 2,623.50 ringgit (843 dollars) per tonne in March to 2,717.50 ringgit per tonne last month.
After several delays, the government has said it will implement its biodiesel plan in stages from June 2011 and will set up six petroleum depots with blending facilities.
MPOB director general Mohamad Basri Wahid said the government was still on track to implement its plan by 2011, despite the production standstill.
"There is a gap in the market at the moment before the government's biodiesel plan is implemented next year but we will go ahead with our plan and are determined to see biofuels succeed in Malaysia," he told AFP.
Malaysia has approved 56 licences for biodiesel output, which would create a production capacity of 6.8 million tonnes, but most plants have not been set up.
The country is the world's second-largest exporter of palm oil after Indonesia, and the two countries account for 85 percent of global production.
Google News APF