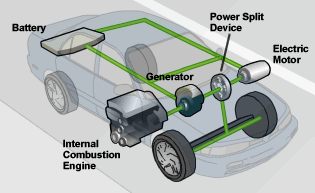 Hybrid cars might cost you much less in fuel but have you ever wondered why the typical hybrid costs more to insure than policies for conventionally powered cars?
It's easy to put this cost down to the higher ticket price of the car but there are more factors that you might not have considered. Unfortunately, these are very much out of your control.
Most people buy hybrids to save on fuel, meaning they may well drive many more miles than the usual motorists. More miles equals an increased the risk of being in an accident, obviously more risk means higher premiums.
With this increased risk is the fact that hybrids cost much more to repair than conventional cars. They feature many more electronic systems, a secondary drive motor, batteries… the list goes on. Many of these system are cutting edge and can cost a small fortune to repair or replace. The cars are also often manufactured using lightweight and expensive materials to counter the extra weight added by heavy items such as batteries. These materials again add to repair costs, making you car more of a liability to insurance companies.
When considering a hybrid, it's very important to do your sums. The "headline" MPG figures may make a hybrid very tempting indeed but it's worth considering the other costs such as your hybrid car insurance and any expensive repair bills that you might have to cover if things go wrong outside of warranty. There are specialist companies that offer policies specifically designed for you eco car, it's worth considering these as well as the mainstream provides. As with all insurances, its vital to shop about to get the best deal.
[ad]