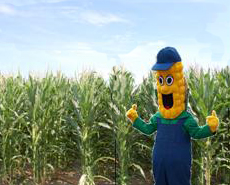 A new farm assurance scheme for biofuel crops will give UK arable farmers the edge in Europe's rapidly growing bioenergy market.
The scheme, which will form part of the Red Tractor Assured Combinable Crops and Sugar Beet Scheme, will help growers comply seamlessly with the EU's new mandatory standards on sustainable biofuels.
With new biofuel plants coming on-line, including Ensus and Vivergo in the North East, and Government biofuel targets increasing, Ian Backhouse, NFU combinable crops board chairman, added the scheme would give UK farmers the edge over their competitors.
"Crops with the badge of assurance will have a market advantage.
"This will benefit all who participate by facilitating trade, supporting demand for crops in Europe, adding value and supporting prices," said Mr Backhouse.
He added the assurance would demonstrate that the crops have met strict EU guidelines, due to come into force in December under the Renewable Energy Directive, therefore removing the need for a government or supply chain scheme being imposed on growers.
"The changes have been designed to have a minimal burden on farm as they utilise the existing strengths of the Red Tractor systems," he said.
Under the update the 16,000 members of the Red Tractor Assured Combinable Crops and Sugar Beet Scheme will be asked two additional questions in their Red Tractor assurance renewal pack.
Source bioenergy.checkbiotech.org